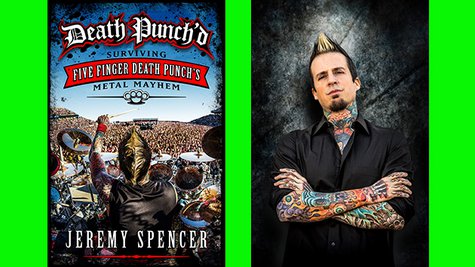 What's it like to be a mohawk-wearing, tattooed rock and roll drummer? Jeremy Spencer of Five Finger Death Punch explains it all in his new memoir, Death Punch'd: Surviving Five Finger Death Punch's Metal Mayhem .
Spencer says the inspiration to write the memoir came after he kicked a terrible substance abuse habit. "The day I left treatment for alcohol and drug addiction, I decided to write my story," he said. "I was feeling raw and exposed and hoped just 'getting it all out' would be therapeutic. And, it was."
Spencer says initially, he "found myself writing two or three thousand words a day," but in a journal format. "It didn't occur to me until I'd written fifty or sixty thousand [words] that my story might be helpful to others who need encouragement in pursuing their dreams and for those struggling with addiction," he said.
Who was Spencer's test reader? His father, who then turned into his editor. "I sent that first draft to my dad [and he] said, 'No parent wants to read about his son's sex, drugs and rock 'n roll exploits,'" says Spencer. "But he said there might be some benefit in sharing it with others, so he agreed to help me with revisions."
Though Jeremy Spencer admits he's "not proud of many of the episodes in the book," he's grown since then and is clear that "the person I was, under the influence, is not who I choose to be. I think Death Punch'd is a reflection of how far one can fall and still find a way back, a way to accomplish goals and dreams and more important...a way to live."
You can find Death Punch'd at your local bookstore or the usual digital outlets on September 2, right before Five Finger Death Punch hits the road on its fall tour with Volbeat and HELLYEAH . Here are those tour dates:
9/16 -- Salt Lake City, UT, Maverik Center
9/17 -- Billings, MT, Rimrock Auto Arena @ Metrapark
9/18 -- Bismarck, ND, Bismarck Civic Center
9/20 -- Cedar Rapids, IA, US Cellular Coliseum
9/21 -- Grand Rapids, MI, Deltaplex
9/23 -- Syracuse, NY, The Oncenter
9/25 -- Baltimore, MD, Baltimore Arena
9/26 -- Lowell, MA, Tsongas Center
9/27 -- Albany, NY, Times Union Center
9/28 -- Uncasville, CT, Mohegan Sun Arena
9/30 -- Portland, ME, Cumberland County Civic Center
10/1 -- Reading, PA, Santander Arena
10/3 -- Newark, NJ, Prudential Center
10/7 -- Ft. Wayne, IN, Allen County War Memorial
10/10 -- Huntington, WV, Big Sandy Superstore Arena
10/11 -- Duluth, GA, Gwinnett Arena
10/12 -- Knoxville, TN, Knoxville Civic Coliseum
10/14 -- Orlando, FL, CFE Arena
10/16 -- Biloxi, MS, MS Coast Coliseum
10/17 -- Little Rock, AR, Verizon Arena
10/22 -- Rio Rancho, NM, Santa Ana Star Center
10/24 -- Las Vegas, NV, The Joint @ Hard Rock
Follow @ABCNewsRadio Copyright 2014 ABC News Radio