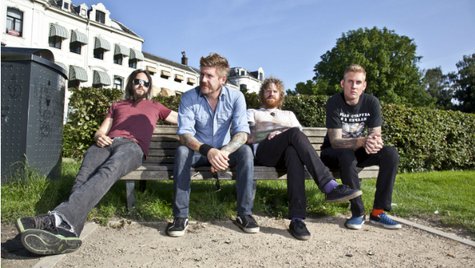 It's been a long time since fans of Mastodon have heard any new music from the band, but that's going to change soon.
Drummer and singer/songwriter Brann Dailor tells SPIN that even though the band has spent more time working on the followup to 2011's The Hunter than on any prior album, work is almost complete. Fifteen songs are already finished: more actually than are likely to appear on the album. And, Dailor adds, fans should expect an uptempo workout.
"It's gonna be a summer release, so I feel like it needs to be amped," Dailor says. "I don't feel like it needs to be slow, and doom and gloom. That's a winter album." He adds that the band is actually considering taking some of the slower, moodier material they've been working on and releasing it later in the year as a "winter EP."

"We have a few really kick-ass rock 'n 'roll songs on here," Dailor says of the forthcoming project. "We have the metal, the heavy-heavy. We have the totally whacked-out and bizarre. And then we have the super-hooky, big-chorus stuff that's still bizarre and still Mastodon -- but it's super catchy. It's wild, all over the place. There's a lot of variety."

One song, "the craziest on the record," Dailor explains to SPIN, is called "Aunt Lisa." It's inspired by the drummer's own "wild" aunt and built around what he describes as a "crazy robot vocal" from bassist Troy Sanders .
As previously reported, the album is expected to be finished by the time Mastodon's spring trek kicks off April 28 in Seattle, WA. It's plotted out through a May 18 show in Columbus, OH.
Copyright 2014 ABC News Radio