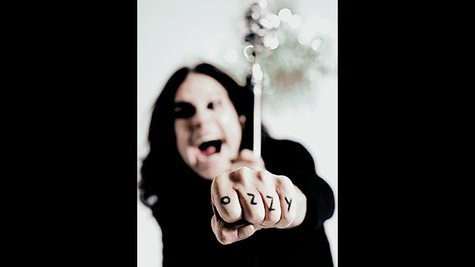 Ozzy Osbourne has fought a public battle with addiction for decades. It's a fight he seems to be winning, so it's no surprise that the Prince of Darkness has been singled out by MusiCares to receive their highest honor. The organization -- which provides financial aid and support to music industry professionals who are struggling with health and addiction issues, through its MAP fund -- will award Osbourne with its Stevie Ray Vaughan Award, in recognition of his work in helping other addicts get and stay sober.
In a statement through MusiCares, Ozzy says, "I know firsthand about the ravages of addiction and I also know that the MusiCares MAP Fund is a vital safety net for people in the music industry who need help with substance abuse. This organization literally saves lives."
Osbourne's own struggles are perhaps the most notorious in rock history. The singer revealed in his autobiography that he was introduced to cocaine in 1970 by Mountain frontman Leslie West and has tried just about every drug imaginable. He has undergone drug rehab and periods of sobriety multiple times; he last admitted falling off the wagon in April 2013 in a Facebook post , but has reportedly been sober since.
The Stevie Ray Vaughan will be awarded to Ozzy Osbourne at the 10th anniversary MusiCares Map Fund benefit concert, to be held at Club Nokia in Los Angeles on May 12. Ozzy will perform at the show, with special musical guest Slash .
Copyright 2014 ABC News Radio