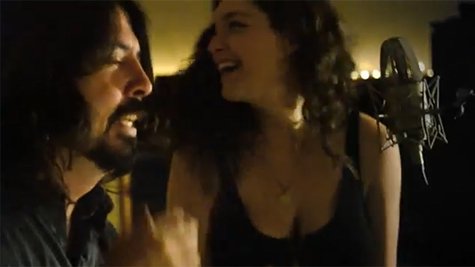 Dave Grohl is no stranger to loud rock and roll -- but he's proven he's versatile enough to play a lullaby too.
The Foo Fighters frontman went to see a show by Los Angeles singer-songwriter Taylor Greenwood last year and was so charmed by her that he offered to lend a hand with her album. That friendship has led to the pair collaborating on a lullaby for charity, with Greenwood on vocals and Grohl playing a stripped-down acoustic guitar part.
A video for the song, "Sing You to Sleep," has has been posted to Greenwood's YouTube page and she tells Rolling Stone the song was entirely a joint effort.
"Dave and I wrote this song together," she says. "He came up with the beautiful guitar part, obviously, and I sang...without even thinking about it. I thought it would be lovely to do a lullaby. To make whoever listened feel a little comforted, loved, maybe even just a little sleepy."
The song is available as a pay-what-you-want download on Greenwood's website , with all proceeds going to Project Night Night , which donates "Night Night Packages" -- containing a security blanket, book and stuffed animal -- to homeless children.
"In many cases these are the only possessions these kids have ever had," Greenwood tells Rolling Stone . "I'm so thrilled about how this all came together and so excited to be able to support this charity."
Copyright 2014 ABC News Radio