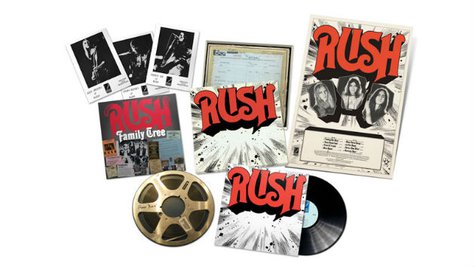 This month marks the 40th anniversary of the release of Rush 's self-titled debut album, and in celebration of the milestone a commemorative package featuring offering a vinyl reissue of the record will hit stores on April 15 . The LP, which will be released as part of Universal Music's "reDISCovered" series, will be pressed on 200-gram audiophile-grade vinyl and remastered from the original 1974 recordings.
The disc will come housed in a box boasting the original Rush artwork that appeared on the record sleeve when it was released on the band's own Moon Records label. The package also will feature a replica of Rush's first promotional poster, lithographs of singer/bassist Geddy Lee , guitarist Alex Lifeson and original drummer John Rutsey , a Rush "family tree" poster and a digital card allowing the user to access a downloadable version of the remastered album.
Rush's self-titled debut features eight songs, including the breakthrough tune "Working Man," as well as such other hard-rocking tracks as "Finding My Way," "In the Mood," "Need Some Love" and "What You're Doing." After recording the album, Rutsey left the band in July of 1974 and, of course, was replaced by Neil Peart .
Copyright 2014 ABC News Radio