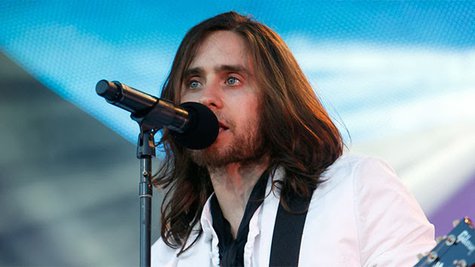 Jared Leto won his first Academy Award this past Sunday, and it looks like he may need some lessons on how to properly care for it.
The Thirty Seconds to Mars frontman tells ET Canada the statuette is currently sitting in his kitchen, "guarded by some vegan butter and a bag of popcorn!" He goes on to explain, "You know, they kind of end up in the kitchen because that's the first place that I go when I get home. You put your keys down and you take off your jacket… and you put your Oscar in the kitchen."
Leto is happy to have the award home in one piece after nearly ruining it. The 42-year-old admits to ET , "I was letting some of the people that I work with take a picture with the Oscar and I was carrying it down the stairs and, boom, I hit it against the stairs, the railing and I put a little nick in the back of it."
Jared took it in stride, adding, "So you know, that's how it goes. It's already lived in, as they say."
Leto won his Best Supporting Actor Oscar for his role as a transgender woman in the drama, Dallas Buyers Club .
Next up for Leto, his band, Thirty Seconds to Mars, will join Linkin Park for the Carnivores Tour, kicking off in August.
Copyright 2014 ABC News Radio