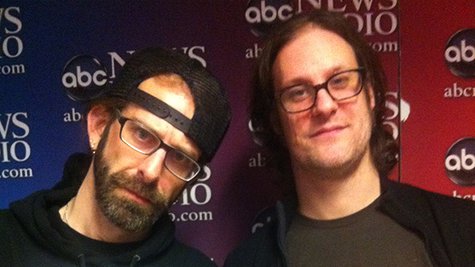 Lamb of God 's newly-released film documentary, As the Palaces Burn , features profiles of a number of fans from around the world, including India and Colombia, who talk about how the band helps them survive their difficult lives. That means a lot to singer Randy Blythe .
"Our fans are really important to us. We [don't] play pop music, and [our] fans are not going to like the next band in a month that's on the charts," Blythe tells ABC News Radio. "It's much more of a lifestyle thing. We kind of wanted to repay the favor and give them some of the attention."
Of course, midway through making the film, this homage to fans was dumped on its head when Blythe was arrested in the Czech Republic and charged with manslaughter for the death of a fan who stage-dived during a Lamb of God show two years before. Blythe, who ultimately was acquitted, says director Don Argott -- who had become a friend of the band members during the time spent filming -- "Was like, 'Hey, is there a movie going on here or not? I need to know,' and my band allowed him to film some stuff. I had no say in the matter because I was in prison, but once I got out...I have trust in him [and] it's real life [material]."
The about-face in the film makes for a pretty riveting viewer experience, but Blythe tells ABC News Radio, "I wish the movie had never been made, I wish we had made a happy little story, but it's what happened. I think Don did a great job of portraying that reality, capturing that truth, and hopefully people can look at this and it'll make them think."
As the Palaces Burn is available on DVD, and is also screening in select theaters now.
Copyright 2014 ABC News Radio