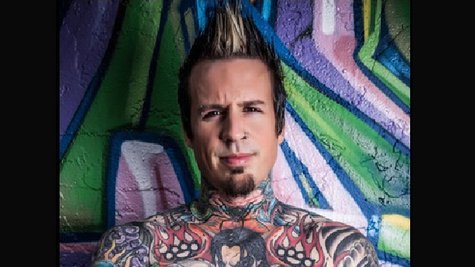 Jeremy Spencer of Five Finger Death Punch started playing drums as a child, on a $79 drum set his grandmother bought him at Sears, but now he's set to receive as many drums as he can pound on -- for free. Spencer has just been signed to the Pearl Drums artist roster, and part of that privilege is receiving custom drums built to his hard-hitting specifications.
Says Mike Farriss , Director of Artist Relations for Pearl, tells ABC News Radio, "Jeremy is an exceptional drummer and has won Drummer of the Year in Loud Wire's 2013 poll. Jeremy fits in well with our family -- Pearl has the most prestigious artist roster in the drumming community."
In an interview with Drum Magazine , Spencer confesses that as a kid he was a member of the KISS Army and would put on Peter Criss cat makeup and challenge neighborhood kids to drum battles. He says, "I was into it. As far as I was concerned, I was a member of Kiss." In the '70s, KISS albums all noted on the back, "KISS uses Gibson guitars and Pearl Drums because they want the best," inspiring legions of fans to try to emulate their heroes' sound. "It was important to me to be as authentic as possible," says Spencer.
One of those drum battles ended with Spencer tossing his drumsticks out into the crowd, hitting his grandmother on the head. Spencer admits it "[wasn't] exactly a cool thing to do to the person who bought you your first drum kit, [but] she's still alive, so it didn't affect her that much."
Five Finger Death Punch begins a string of European dates on March 18 in Germany, and returns to the States for a handful of rock festivals at the end of April.