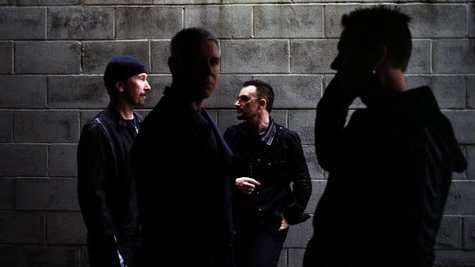 Forget about that tentative summer release for U2 's upcoming studio album: Billboard reports that, according to a number of sources, the band has pushed back the project's arrival date until 2015. The sources tell the magazine that the Irish rockers are planning to do some additional recording, with Adele / Paul McCartney collaborator Paul Epworth and OneRepublic frontman/songwriter Ryan Tedder producing those sessions.
The group has been working on the album for the last couple of years with Brian "Danger Mouse" Burton , who is expected to remain the project's main producer. However, the band's members have mentioned in recent interviews that they'd been considering bringing in other collaborators.
"It seems to be taking longer for them to finish an album as they get older, but the great thing about U2 is that the whole of a record is always better than the sum of its parts," a source close to the project tells Billboard . "That magic that the band always seems to capture...they have yet to capture it."
Billboard also reports that a U2 tour that initially was supposed to launch in September of this year now will get under way in the summer of 2015.
Insight into why U2 is taking so long to hone their new album was hinted at in a recent interview the band gave to The Hollywood Reporter . Frontman Bono explained that he felt it was very important for the band's new music to remain fresh and contemporary, noting that "to be relevant is a lot harder than to be successful." Added The Edge , "We don't want to ever be a heritage act. It might happen, but we'll go kicking and screaming into that mode."
Copyright 2014 ABC News Radio