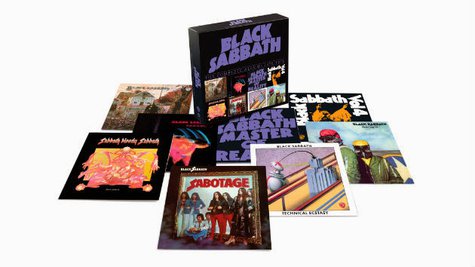 A new box set featuring Black Sabbath 's first eight studio albums with original frontman Ozzy Osbourne will be released on April 15 . The eight-CD collection, Black Sabbath: The Complete Albums 1970-1978 , spans from the heavy-metal legends' self-titled debut through Never Say Day! , Osbourne's final studio effort with the group until last year's chart-topping 13 .
The discs will come housed in sleeves replicating the albums' original cover art and will be packaged together in a clamshell box. Among the many classic and influential songs featured on the Sabbath's 1970s albums are "Iron Man," "Paranoid," "War Pigs," "Sweet Leaf" and "Sabbath Bloody Sabbath."
The Complete Albums will arrive a couple weeks after Black Sabbath launches a new North American tour . The trek is scheduled to run from a March 31 concert in Brooklyn, New York, through an April 26 concert in Los Angeles, and also will include stops in 10 Canadian cities.
Here's the list of CDs included in The Complete Albums 1970-1978 set:
Black Sabbath (1970)
Paranoid (1970)
Master of Reality (1971)
Vol. 4 (1972)
Sabbath Bloody Sabbath (1973)
Sabotage (1975)
Technical Ecstasy (1976)
Never Say Die! (1978)
Copyright ABC News Radio