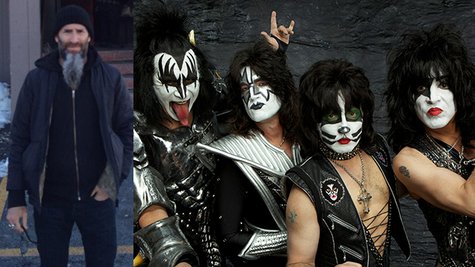 Scott Ian is a huge KISS fan, but he has an unusual opinion about the band's upcoming induction into the Rock and Roll Hall of Fame: who cares?
The Anthrax frontman counts the members of KISS as his very first musical heroes -- having seen them at Madison Square Garden as a little kid -- but tells ABC News Radio, "I saw an interview Paul [ Stanley ] did recently, where he came out and totally ripped [the Rock and Roll Hall of Fame], totally called them on their B.S., and basically saying what I'm saying: Who cares about the rock hall?"
Ian tells ABC News Radio he thinks that Stanley's attitude is as rock and roll as you can get. "I love that!," he says, "I love that an artist of his stature was able to have the balls to say that, 'cause generally nobody says anything [to offend the Rock Hall]."
Ian realizes this perspective may stand in the way of Anthrax ever being inducted and says, "I don't care if I ever get into the Rock and Roll Hall of Fame." He does admit that he'd jump at the chance to induct KISS on stage, but would use the opportunity to blast the Hall of Fame for what he sees as its self-aggrandizing behavior.
And with that, Scott Ian says simply, "from [now] on, I decided I'm not talking about it anymore. It's a complete waste of my breath."
KISS will be inducted into the Rock and Roll Hall of Fame -- along with Nirvana, Peter Gabriel and others -- on April 10 at the Barclays Center in Brooklyn, New York. KISS fans were disappointed to learn that the band doesn't plan to perform at their Rock and Roll Hall of Fame induction ceremony, reportedly because of difficulties determining which incarnation should take the stage.
Copyright 2014 ABC News Radio