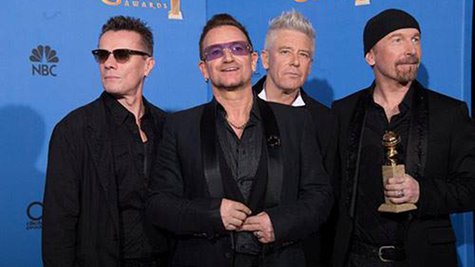 Contrary to a recent article from Billboard reporting that U2 's next studio album won't be released until next year, a spokesperson for the band tells U.K. newspaper The Guardian that the record is still expected to be released in 2014.
"U2's album is planned for this year, is still on track and touring plans haven't been confirmed yet," the rep says.
Billboard claimed that sources close to the group told the magazine that Irish rockers had delayed plans to release the album this year because they wanted to do some additional recording with two producers that they only recently had brought into the project -- Paul McCartney collaborator Paul Epworth and OneRepublic frontman/songwriter Ryan Tedder , both of whom also have worked with Adele . In addition, the sources said that a tour U2 had initially intended to launch in September was now slated to get under way in the summer of 2015.
U2's long-delayed follow-up to 2009's No Line on the Horizon initially was supposed to have been issued later that same year as a companion piece to that album. The release has been move back numerous times for various reasons.
Copyright 2014 ABC News Radio