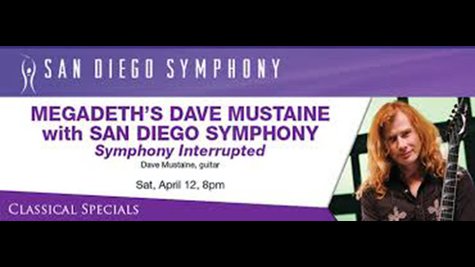 Dave Mustaine has started intensive rehearsals for his upcoming gig with the San Diego Symphony. As previously reported, the Megadeth frontman will be sitting in with the San Diego Symphony for their upcoming Symphony Interrupted concert.
Last weekend, Mustaine posted a photo of his guitar strapped into a seat belt with the caption, "My trusty warhorse and I are off to start the Symphony Interrupted rehearsal." He'll be performing a few classical compositions at the event: the "Summer" and "Winter" movements from Antonio Vivaldi 's The Four Seasons and Johann Sebastian Bach 's "Air on the G String."
In a phone chat with ABC News Radio, Dave Mustaine says that his background isn't as far away from classical as some fans might think.
"Classic is to me very heavy metal," Mustaine says. "I was brought up on the British Invasion, listening to Led Zeppelin and their medieval songs and all their drama, and the Beatles with Sir George Martin and all of the classical layerings he did in the background. That's a big part of the stuff I was brought up on.
Mustaine also says his gig with the San Diego Symphony is "a great opportunity because I was born in La Mesa, [California] and San Diego has one of the best symphonies in the nation, and the approach is pretty laid-back because they know that I'm self-taught. There are going to be so, so many people there who are virtuosos, that are going to be playing with me. I'm going to learn a lot -- I already have."
The Symphony Interrupted show will take place on Saturday, April 12 at the Copley Symphony Hall in San Diego, CA. Get your tickets at SanDiegoSymphony.org .
Copyright 2014 ABC News Radio