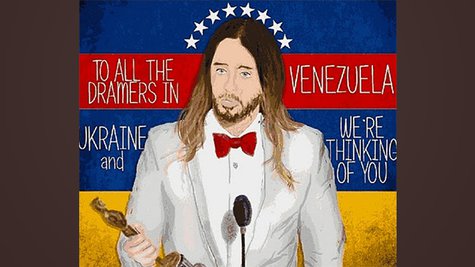 When Jared Leto gave his acceptance speech after winning the Best Supporting Actor Oscar for his role in Dallas Buyers Club , he gave a shout-out to Venezuela and Ukraine -- two countries in dangerous times due to political strife.
Leto is walking his talk -- the Thirty Seconds to Mars frontman has played two shows in Kiev, Ukraine this week, and posted photos of his visit to his Instagram page . During one of the shows -- captured by a fan video on YouTube -- Leto noted that other bands have canceled shows in Ukraine, but that "there's no f***ing way" that Thirty Seconds to Mars would not show up to "this beautiful city in this great country."
Ukraine is in the midst of a political crisis over it's internal governance, and a military occupation of the Crimea region by Russia. Thirty Seconds to Mars is scheduled to play four shows in Russia, beginning on March 14. Whether Leto and company will get a mixed reception as a result of his voiced political opinions remains to be seen.
Copyright 2014 ABC News Radio