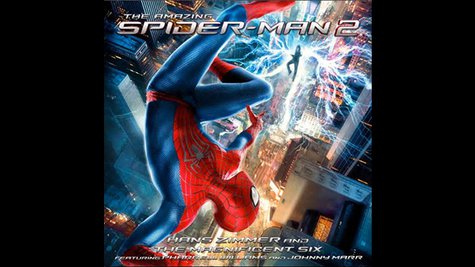 The Amazing Spider-Man 2 will hit theaters later this spring. The live-action film is expected to be as action-packed and tension-building as its predecessors, but the new film will have the advantage of being scored by the Oscar and Grammy-winning Hans Zimmer and the Magnificent Six -- consisting of music heavies including Michael Einziger of Incubus and Johnny Marr of The Smiths and Modest Mouse .
What's the effect of using rock and rollers to write a film's score? Apparently it's putting a rock and roll vibe under the film itself. Zimmer -- who's won more awards than the average mantle can hold -- says in a statement through Columbia Records, "We embraced a rock-and-roll ethos on this movie, and it paid off."
Einziger -- who last August told ABC Radio News that Incubus is on hiatus but not disbanding -- previously worked with Zimmer on the score for The Lone Ranger, a film for which he also co-wrote a single, "Wake Me Up" with DJ/producer Avicii .
The Amazing Spider-Man 2 soundtrack will also feature news songs from Alicia Keys and Pharrell Williams . The soundtrack will be available at digital and traditional outlets on April 22.
The film hits U.S. theaters on May 2.
Copyright 2014 ABC News Radio