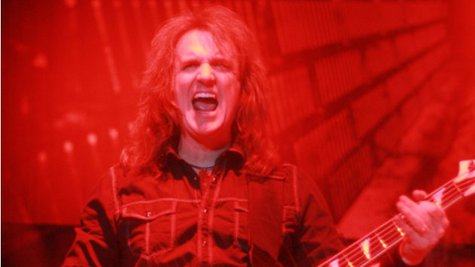 Dave Ellefson 's a happy guy these days. The Megadeth bassist is on vacation in California with his family, getting a little R&R before the band prepares to head back out on tour -- this time for a couple of U.S. dates and then on to South America.
Megadeth has also just been announced to be appearing on the Motörboat Cruise this fall, along with Motörhead and other heavy-hitters. Ellefson tells ABC News Radio, "Certainly Motörhead are the iconic heavy metal band if there ever was one, and to be on the cruise with [them] and Anthrax and Zakk Wylde .... Let's hope there's a lot of water, because there's gonna be a lot of metal."
Also on the Megadeth agenda before the band leaves for South America is Dave Mustaine 's sold-out show with the San Diego Symphony, for a classical music concert called Symphony, Interrupted . Ellefson tells ABC Radio News that the symphony is one of the "opportunities [that] at this point in our lives and our careers get really interesting. That's a cool thing for him to be a part of. I'm happy for him."
Tickets for the Motörboat Cruise go on sale March 18, and details about pricing and cabin packages will go live on the Motörboat site, MotorheadCruise.com , later this week.
Copyright 2014 ABC News Radio