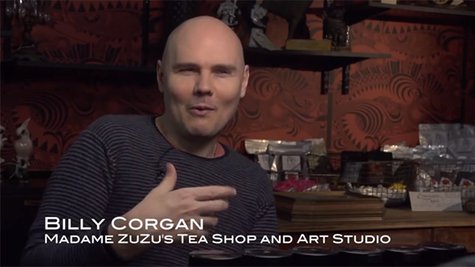 Billy Corgan turns 47 on Monday, St. Patrick's Day. The Smashing Pumpkins frontman is more likely to spend his birthday drinking tea than green beer, though -- he owns the New York City teahouse Madame ZuZus , where he sells "gourmet tea...[at] prices that are a little higher."
This seems a far cry from the Billy Corgan of the '90s, who screamed lyrics like "despite all my rage, I'm still just a rat in a cage," and it seems the singer's musical sensibilities have also matured. He tells ABC News Radio that he now understands that "exciting your fans [isn't about] the song that gets on the radio, it's the song that maybe triggers an emotional response."
Corgan says that's not a lesson that was endorsed by his record companies. "The music business will tell you that's not what fans are looking for," he says, "but I don't buy that."
Corgan had lots of time to touch his fans recently. Last month, he performed an eight-hour-plus "ambient/musical interpretation of author Hermann Hesse 's novel Siddhartha " at Madame ZuZus.
Copyright 2014 ABC News Radio