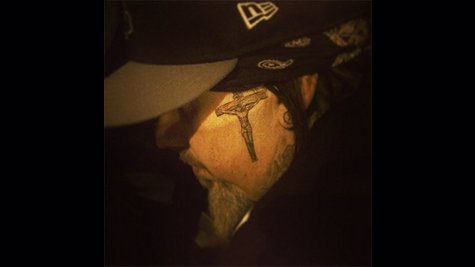 Fieldy of Korn has spoken many times about the power of finding Jesus in his life, and now the bass player sees Jesus every time he looks in the mirror. Fieldy got a large image of Jesus on the cross tattooed on the left side of his face, between his cheekbone and ear. Judging from the photo that Brian "Head" Welch posted on his Instagram , the crucifix looks to be just under four inches tall and filled in with black ink.
Head's post reads, "My boy Fieldy's new face tattoo... REPRESENTING."
Fieldy became religious following the death of his father in the mid-2000s. Head left Korn around the same time and became a Christian; both Fieldy and Head credit their religious conversion with helping them quit drugs and destructive behavior. Head returned to Korn early last year.
Korn's next gig is at the Golden Gods Awards on April 23. They then have two festival dates before leaving for an international tour in early May.
Copyright 2014 ABC News Radio