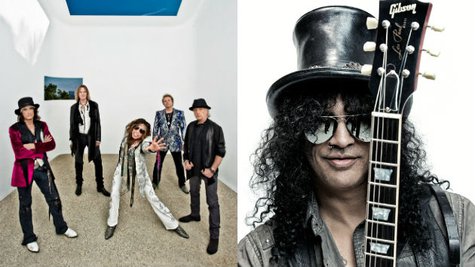 In what promises to be one of the most rocking tours of the year, Aerosmith and ex- Guns N' Roses guitarist Slash will be joining forces for a joint U.S. trek this summer. In a series of Twitter messages during the last few days, Aerosmith's Joe Perry and Joey Kramer , as well as Slash, all have confirmed the big news.
On Friday, Perry wrote , "It's official -- we just talked, AEROSMITH/SLASH USA tour confirmed!! Tickets on sale next few wks Soon as dates confirmed. LET ROCK RULE!" The guitar great added a follow-up note on Monday that read, "The dates will be announced soon if they haven't already. Save your money for the tickets we ARE touring the US this summer."
Kramer also shared the initial announcement on Friday, tweeting , "It's official @Aerosmith @Slash US Tour 2014 dates coming soon!!"
As for Slash, he wrote on Friday , "Great news! We'll be touring the US with Aerosmith this summer! Stay tuned for dates. It's going to be a killer tour! R n Fn' R!" The rock legend added on Tuesday , "Very stoked about the summer US tour with @Aerosmith Dates are starting 2 get out. But there will b an official announcement soon."
So far, a list of dates has yet to be revealed, but the tour undoubtedly won't begin until Aerosmith returns from its scheduled overseas trek . That outing runs from an May 14 concert in Istanbul, Turley, through a July 2 show in Kiev, Ukraine. The Boston bad boys do already have one U.S. summer performance on their itinerary, a July 19 headlining slot at the annual Rock Fest event in Cadott, Wisconsin.
Copyright 2014 ABC News Radio