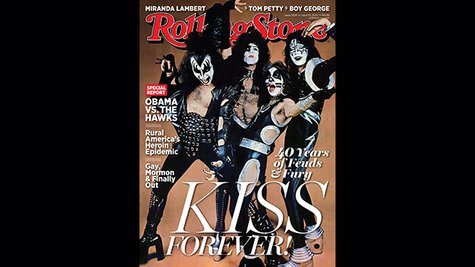 It's official -- Gene Simmons can now call 2014 the year that all his complaints died. The KISS bassist has long moaned and groaned that his band was ignored by two old rock institutions -- Rolling Stone , who never gave the band its cover, and the Rock and Roll Hall of Fame, who has ignored KISS through 14 years of induction eligibility.
The Hall of Fame is set to induct the band's original lineup on April 10, and 40 years after the release of their self-titled debut album, KISS will finally grace the cover of rock's most famous magazine . Echoing the Hall of Fame's feelings about the original lineup, though, the image on the magazine cover is of the original four band members -- Gene Simmons, Paul Stanley, Ace Frehley and Peter Criss .
Also in line with the recent Hall of Fame drama between the members, Rolling Stone notes that there was some serious "backbiting" during the time that the editor, Brian Hiatt , spent with the four members in their respective homes. Gene Simmons said, "I keep thinking about Ace and Peter. What are they doing now? Where are they? It's gotta be close to the end. How do you make any money? How do you pay your bills?"
Paul Stanley took a swipe at co-founding member Gene Simmons, saying, "We've always seen each other as brothers. What we seem to be at odds at is how you treat your brother. Gene's priority, by far, has always been himself. And he's not one to let anyone else's feelings or contributions get in the way."
The cover story also delves into the Hall of Fame story, with Peter Criss saying he "won't be disrespected. How can you put me in the Hall of Fame and then tell me to go sit over there in the corner while [Eric Singer] puts on my makeup and plays? That's an injustice. To the fans, too."
In what might be the biggest revelation of the Rolling Stone piece, Simmons says his touring days are just about over. "I'm 64 now," he says. "Three more tours. Two, if I have a life change of some kind."
The KISS cover issue of Rolling Stone hits newsstands March 28, March 26 for online subscribers.
Copyright 2014 ABC News Radio