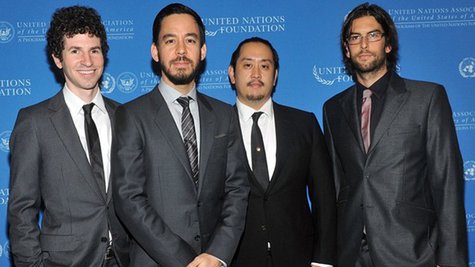 Following last week's release of a lyric video for "Guilty All the Same" (featuring Rakim ), Linkin Park has released a updated video -- and it's actually a rebuildable video game.
According to Billboard , where there's an exclusive behind-the-scenes look at the making of the game, the technology used in the video is called Project Spark. When the video is played on Xbox or any Windows 8 PC, fans can take apart the video components and remix the song and the game any way they'd like.
Linkin Park multi-instrumentalist Mike Shinoda tells Billboard , "Since I was a kid, I wanted to make games." However, it was turntablist Joe Hahn who got the idea for the video when he attended last year's E3 video game convention: "I saw this cool demo for Project Spark, and it just blew my mind. For me, the next step was to see if we could showcase our next song as a game instead of a video."
The end product is something that looks like a mashup of the games Temple Run and Badland -- the main character is on the run from his own guilt. The better the character does, the more enhanced the music sounds.
Copyright 2014 ABC News Radio