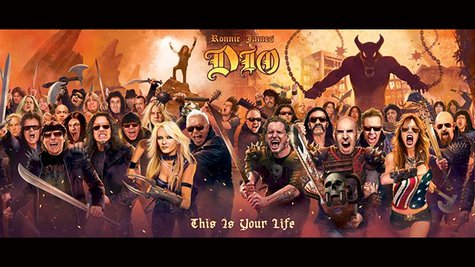 The first single from the Ronnie James Dio tribute album This Is Your Life has been released. The tune is by Metallica -- it's called "Ronnie Rising" and is actually a four-song medley of Dio songs, streaming now on Rolling Stone.com .
Dio lost his battle with stomach cancer in 2010. The singer's widow, Wendy Dio , is the co-founder of the Stand Up and Shout Cancer Fund, an organization that focuses on supporting stomach cancer research and raising awareness about the disease.
Wendy Dio also curated and produced This Is Your Life . She tells ABC News Radio that Metallica joined the project late, but was no less welcome. "I started mentioning that I was putting this together [at various functions I went to], and a couple of people had already come in and recorded," she says. "And then Metallica called our office and said, 'Are we too late?' and I said, 'Absolutely not.'"
Once Metallica signed on, Wendy Dio says it was impossible for the band to choose just one song: "They were big fans of Ronnie's and always had been. They were going through all kinds of songs and they just couldn't decide which one, so they ended up doing four, as a medley."
This Is Your Life also contains contributions from Corey Taylor of Slipknot and Stone Sour , plus Scorpions , Motörhead , Judas Priest 's Rob Halford , Anthrax , Tenacious D , Halestorm , and former members of Dio, Rainbow and Black Sabbath.
This Is Your Life hits retail and digital outlets April 1.
Copyright 2014 ABC News Radio