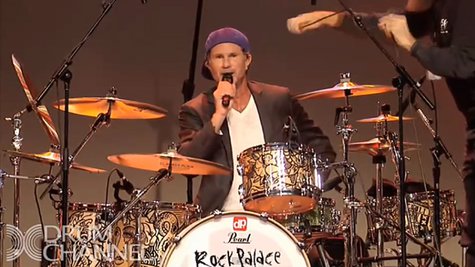 Chad Smith is Birmingham's hometown hero. The Red Hot Chili Peppers drummer is being honored in his old stomping grounds -- and that's Birmingham, Michigan, not Alabama -- by his inclusion in Birmingham Historical Museum's "Sounds of Birmingham: A Community of Music" exhibit.
The exhibit showcases Birmingham's musical history, with a special spotlight on Smith, the city's most famous musical product. A press statement about the event promises "[a] display [of] a variety of personal artifacts, photos, and other objects from Chad's astounding career."
Also on display at the exhibit is Chad Smith's personal Pearl Masters Series "tattoo kit" drum set, which was used on the Chili Peppers' 2008 Stadium Arcadium tour.
If you're a Red Hot Chili Peppers fan, don't stress about the clock running out before you can visit: the Community of Music exhibit is on display for a full year.
Find details at the Birmingham, MI city website .
Copyright 2014 ABC News Radio