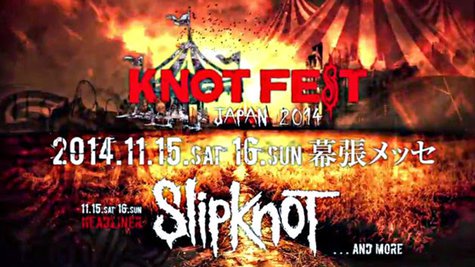 Successful Knotfest U.S.A. plus successful Ozzfest Japan equals successful Knotfest Japan.
That's the equation behind the first-ever Knotfest Japan festival, set to take place in Tokyo this November, featuring Knotfest creators Slipknot and a slew of other hard-hitters.
On the festival's official website , the Japanese promoter promises many other bands to be announced as well as everything that fans encountered at the band's stateside Knotfest in 2012: "An apocalyptic underworld with firebreathers, nightmarish creatures on stilts, fire and percussive light, and stunning visuals." There also will be a Slipknot mini-museum with pieces of the band's stage sets and props from years past.
In a promo video for Knotfest Japan, Shawn "Clown" Crahan promises "many great bands. This is a culture thing, an important thing, and I hope you're ready for what's next."
The original Knotfest featured Slipknot, as well as Lamb of God, Deftones, Serj Tankian, Machine Head, Prong , and others.
Knotfest Japan will take place on November 15 and 16 at Makuhari Messe in Tokyo.
Copyright 2014 ABC News Radio