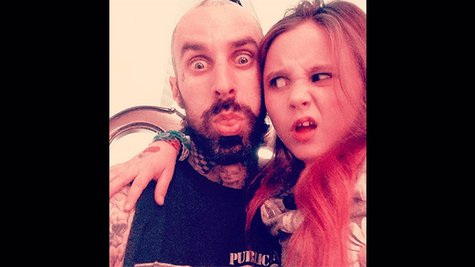 Travis Barker is not one to play it safe. This from Blink-182 's drummer himself, who tells the online community Quora in a Q&A entry that by the time he was five years old, he decided he wanted to play the drums, and he did everything possible to seal off all other options.
Barker says he made his mother a promise before she died, and basically that was that. "There was nothing that came along between the ages of five and until my mom passed away when I was 16 that I wanted to do more than play the drums, he said. "On her deathbed, my mom told me to play the drums. So, my future was mapped out for me."
Rather than map out a strategy of how to succeed with his dream, Barker says he took away all of his own safety nets. "In high school...I told [college counselors] 1. My dad doesn't have the money to pay for college, 2. I don't want to go to college and 3. I'm going to play the drums. [Then] I started getting tattoos and what I called "job stoppers" everywhere. I knew [tattoos] would prevent me from getting a normal job. I positioned myself with my back against the wall so I had no other choice than to do what I absolutely loved."
Barker stops short of recommending that others take his no-holds-barred plan for success but does advise, "If you love playing the guitar, you love rapping or you love producing music, you have to do it. That's it. Don't worry about driving a nice car, having nice clothes, or a nice place to live. Just concentrate on doing what you love and the good stuff will come."
Good stuff has definitely come to Travis Barker. A few months back, he posted a note on his Instagram account , revealing he's working on a new memoir that will document his life and times playing with Blink-182, as well as his other musical projects, including Transplants , +44 and Box Car Racer .
Copyright 2014 ABC News Radio