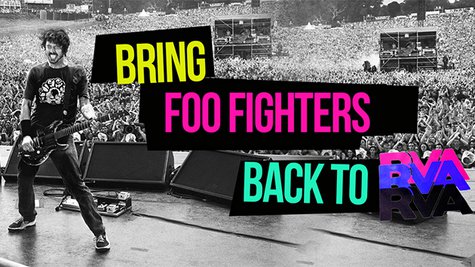 Some fans in Virginia are selling tickets to a non-existent Foo Fighters show and they want to whole world to know about it -- or at least enough of the world so that word might get to Dave Grohl . According to Richmond TV station WTVR , a group of Foo fans are bereft because their favorite band hasn't played a show there since 1998, and they've taken matters into their own hands.
The group -- with the catchy name of Help Bring the Foo Fighters Back to RVA! -- has taken it upon themselves to sell 1,400 concert tickets, hoping that Grohl and company will reward their efforts by scheduling a show.
Tickets are $50 each, sold through CrowdHoster.com , and organizer Andrew Goldin says it's risk-free for fans who want to pitch in. "Either the band will come and play and you'll get what you paid for or they won't come and everyone gets every penny back," he explains. "CrowdHoster holds on to all money and then if the show happens, the money will be transferred to the band, venue, etc."
There's no word from Grohl, but it's probably not too much of a far-fetched idea that he might sign on, as he's got time for all kinds of projects. Besides fronting the Foo Fighters, the singer and multi-instrumentalist has taken part in Queens of the Stone Age , helped out myriad charities and young artists -- seemingly at the same time -- helped out Foo band mate Taylor Hawkins with a new side project called Birds of Satan and, oh, played with and befriended Paul McCartney all while getting ready for his induction with Nirvana into the Rock and Roll Hall of Fame.
Copyright 2014 ABC News Radio