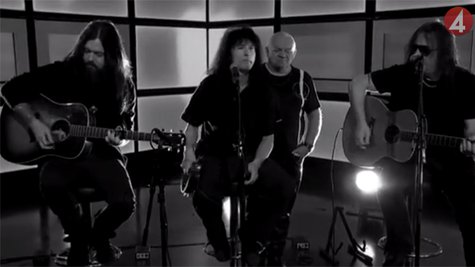 Former Shinedown guitarist Jasin Todd joined Anthrax singer Joey Belladonna , as well as ex- Accept vocalist Udo Dirkschneider and Ross "The Boss" Friedman from Manowar to perform a Rolling Stones classic on a Swedish television morning show. If that sounds odd, well, the execution was even stranger.
The group calls itself the Metal All-Stars and is actually only a fraction of the touring band. The foursome appeared on Nyhetsmorgon [nyets-morgon] -- English translation: morning news -- with two middle-aged hosts who first offered the group some vegetarian breakfast, then chatted them up about their tour, which is winding its way through Europe playing to sold-out crowds.
Todd and company then perched on stools and sang the Stones song, "You Can't Always Get What You Want."
Additional members include Zakk Wylde , Max Cavalera of Sepultura , Jon Donais of Anthrax and others. Motley Crue frontman Vince Neil will make several special appearances with the group.
No U.S. dates have been announced, but shows will be updated as they're scheduled at MetalAllStars.com .
Copyright 2014 ABC News Radio