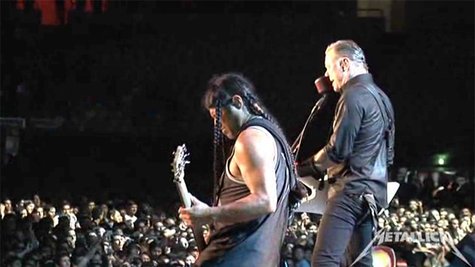 It's official: Metallica is now the third best-selling album artist of the SoundScan era.
According to Billboard.biz , Metallica has edged out former third placer Mariah Carey , by posting sales of 54.26 million units to her 54.24 million.
The SoundScan top-five selling artists are:
1. Garth Brooks -- 69.52 million units
2. The Beatles -- 65.55 million units
3. Metallica -- 54.26 million units
4. Mariah Carey -- 54.24 million units
5. Celine Dion -- 52.21 million units
SoundScan began tracking album sales in March of 1991.
As previously reported, Metallica's self-titled album -- known by almost everyone as The Black Album -- will soon mark 16 million in sales.
To date, the 1991 album has sold approximately 15,971,000 copies. According to Billboard , Metallica sells between 2,000 and 3,000 copies of The Black Album per week, and should therefore hit the 16 million mark sometime in June or July.
In other Metallica news, the band has just posted the latest of its MetOnTour video series -- this installment from its Lima, Peru, show on March 20. "The Four Horsemen" and "Whiplash" are featured in the video, which is streaming on Metallica.com .
Copyright 2014 ABC News Radio