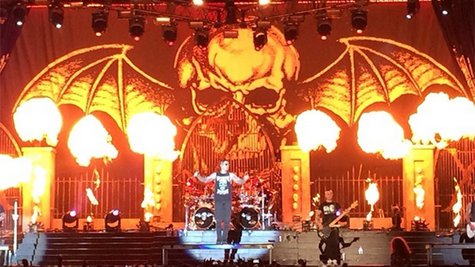 Fall Out Boy has Fall Out Bird ... Linkin Park has the new "Guilty All the Same" interactive video/computer game...and now comes news that Avenged Sevenfold is looking to join the ranks of bands with proprietary video games.
Hail to the King: Deathbat is the working title of the new game, which already has its own Facebook page . The latest issue of Game Informer magazine calls it a "rock-infused dungeon crawler" that resembles "a descendant of Diablo ." According to A7X frontman M.Shadows , the game will be for mobile devices -- he wanted a full-fledged console game but was informed that the price tag of the elaborate game of his fantasies was roughly $200 million.
There isn't yet a release date for Hail to the King: Deathbat , but a source close to the band tells ABC News Radio that "it won't be long."
In other Avenged Sevenfold news, the band will release a DVD later this year -- it will include footage from their March 24 Mexico City show.
Copyright 2014 ABC News Radio