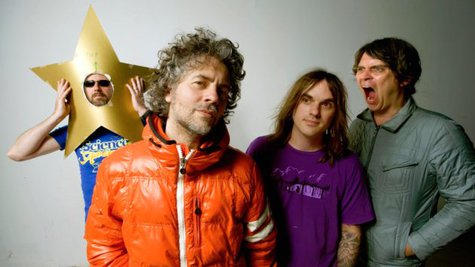 A few years ago, The Flaming Lips released their own version of Pink Floyd 's The Dark Side of the Moon . The band is now revisiting the classic album for another project.
In a press release obtained by Consequence of Sound , the Flaming Lips announced the release of a new companion album to The Dark Side of the Moon , titled Flaming Side of the Moon . They say their work was "carefully crafted to sync up perfectly with the 1939 film, The Wizard of Oz ." Recall that there are those who claim Dark Side of the Moon does that as well.
The Flaming Lips also note, "For ideal listening conditions, fans are encouraged to seek out the original Alan Parsons ' engineered quadraphonic LP mix of Dark Side , but it will work with the album on any format."
The band claimed that Flaming Side of the Moon is now available via digital outlets, though at last check it's nowhere to be found on iTunes and Amazon.com. Consequence of Sound wonders if the press release is just an April Fools' Day hoax.
In 2009, The Flaming Lips teamed up with another Oklahoma City group, Stardeath and White Dwarfs , to put out a reimagining of The Dark Side of the Moon , titled The Flaming Lips and Stardeath and White Dwarfs with Henry Rollins and Peaches Doing "The Dark Side of the Moon ."
Copyright 2014 ABC News Radio