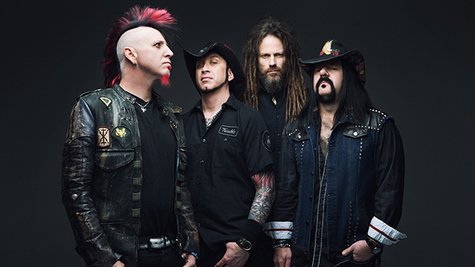 Two songs from the brand new HELLYEAH album are streaming live now. From Blood for Blood -- which hits retail and digital outlets in June -- fans can hear the title track and "Cross to Bier (Cradle of Bones)" on the band's YouTube channel .
The new album is the fourth for HELLYEAH, and the first without Greg Tribbett and Bob Zilla . Zilla's bass duties have been assumed by Bloodsimple 's Kyle Sanders . The identity of HELLYEAH's new guitarist hasn't yet been revealed.
Fans will immediately notice that Blood for Blood is the heaviest of HELLYEAH's albums. Drummer Vinnie Paul tells ABC News Radio that this album in many ways represents the band's first serious metal offering. "We looked to expand on where we came from on the last record," he explains. "[On Band of Brothers ], we felt we got back to our metal roots and really got back to doing what people expected from this band from the start. Whereas the first two records were really almost experimental."
Paul also tells ABC News Radio he's quite proud of Blood for Blood . "With this record, I feel like it's an extension of the last record but with much better songwriting, much better production all the way around. [I] just really feel like we made our version of Back in Black -- the album people are gonna recognize HELLYEAH for, for a long time."
Blood for Blood hits retail and digital outlets on June 10.
Copyright 2014 ABC News Radio