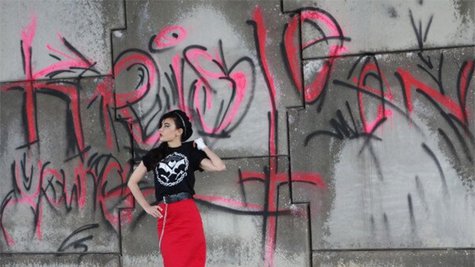 Dave Grohl has always been generous with his time. The Foo Fighters frontman has lent his talents to Queens of the Stone Age , given a hand to Foo band mate Taylor Hawkins with his new side project called Birds of Satan , produced country stars Zac Brown Band 's latest project, and helped out myriad charities and younger artists like Taylor Greenwood and Kaki King .
The latest lesser-known artist to get the Grohl treatment is Kristeen Young . Her new song, "The Pictures of Sasha Grey," is being streamed live on Billboard.com right now. The tune is from Young's forthcoming album The Knife Shift , which features Grohl's drumming on every track, as well as his guitar virtuosity on five songs.
Though this is Young's seventh album the singer is still virtually unknown, but Grohl is doing all he can to change that. "I love this record," he gushes to Billboard . "It's unlike anything I've done before. It's bare, but very deep. Raw, but melodically complex. I love Kristeen. So much. I've never met anyone like her. Neither have you."
Young tells Billboard that when Dave guest-hosted Chelsea Lately last year, he was given a mix tape by a friend of hers and liked it, so he tracked her down via YouTube. "Around the same time, I suddenly was in need of a drummer for the new album," she says. "I asked Dave and was stunned when he said yes."
The Knife Shift will be released on May 23. Besides the track streaming on Billboard , two other preview songs are available on Young's SoundCloud page .
Copyright 2014 ABC News Radio