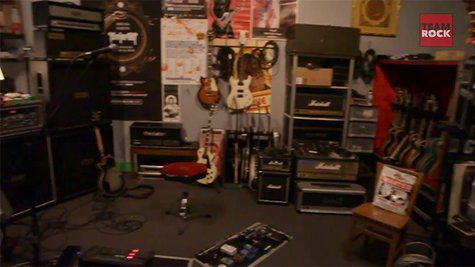 Want to know how the magic happens for Mastodon 's forthcoming album, Once More 'Round the Sun -- as well as every other one of the band's projects over the last decade or so? Here's your chance: when Metal Hammer recently interviewed Mastodon, the U.K. magazine brought along a camera crew and recorded footage of the band's rehearsal space.
The video tour is streaming on Metal Hammer 's YouTube channel and reveals Mastodon's ThunderBox Studios, with interview footage from the band members.
ThunderBox is where the tracks for Once More 'Round the Sun were conceived and tightened -- including the band's new single, "High Road," which is streaming on Mastodon's official website, MastodonRocks.com .
Once More 'Round the Sun is set to arrive at retail and digital outlets on June 24. Also available that same day will be a deluxe package that includes two 180-gram vinyl LPs, the album on CD and four lithographs based on the album's artwork, all housed in a quadruple gatefold vinyl LP jacket. This deluxe package is available only by pre-ordering through the band's website.
Copyright 2014 ABC News Radio