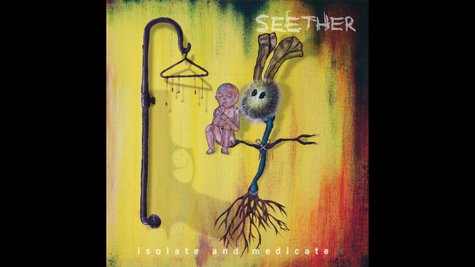 Seether has announced a July 1 release date for their sixth studio album, Isolate and Medicate .
The album reunites the band with producer Brendan O'Brien , who has sculpted albums for Pearl Jam , Bruce Springsteen and Smashing Pumpkins .
Fans can get a taste of the album today by downloading the new single, "Words As Weapons," which is available for free on the group's website, Seether.com .
In a press release, frontman Shaun Morgan revealed that he wrote and recorded much of Isolate and Medicate in a studio constructed in his New Hampshire home.
"I actually built a room that I could write in," he says. "I personally pulled out the carpet, put in wood flooring, decorated, and painted. After getting off the road, it was a process of preparation to get the environment just right. I made a place that I felt comfortable and creative in. I was able to be safe and isolated, concentrating on writing music instead of dealing with the distractions that come with daily life."
Seether is currently on the road for a string of headlining and festival dates, including their own upcoming Rise Above Fest featuring Avenged Sevenfold , Hellyeah , Black Stone Cherry , and others. The second show in this now annual event takes place at Darling's Waterfront Pavilion in Bangor, ME on Saturday, May 10 and benefits SAVE (Suicide Awareness Voices of Education), one of the leading national not-for-profit organizations dedicated to raising awareness and educating the public in order to SAVE lives.
Isolate and Medicate is available for pre-order on iTunes and Amazon.com .
Here's the Isolate and Medicate track list:
"See You at the Bottom"
"Same Damn Life"
"Words as Weapons"
"My Disaster"
"Crash"
"Suffer It All"
"Watch Me Drown"
"Nobody Praying for Me"
"Keep the Dogs at Bay"
"Save Today"
Copyright 2014 ABC News Radio