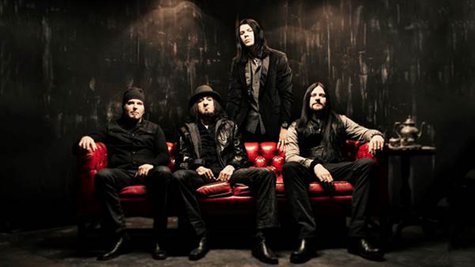 Saliva is back with a brand-new album, Rise Up , as well as a brand-new singer, Bobby Amaru , who stepped in when original frontman Josey Scott left to pursue a career as a solo Christian artist.
You might argue that replacing a singer is the hardest personnel change a band can undergo. The lead vocalist of a band is by definition its frontman, and the face and personality most fans connect with. So it's not surprising Bobby Amaru tells ABC News Radio that he felt enormous pressure when he first joined Saliva: "you wanna do well, and then I [thought], 'I just wanna do my thing and not worry about what people say or think.' That pretty much got me through all that, and just touring and being on the road and winning people over every night."
Amaru says some longtime Saliva fans expected him to epically fail, but he changed their minds. "People [came to] the shows and [wanted] to see [me] fail, but then they'd come up after and [say] really good things, [like] 'Man, I came here thinking it was going to be awful and it was really great and I'm a fan again,' and stuff."
After playing some dates live with Saliva, the pressure was on to make a record. Amaru says he dealt with that stress by thinking, "'Okay, this is the most important thing.' We wanted to make the record fun and get back to what it was all about for the band."
Rise Up is available at retail and digital outlets now. Saliva has a few shows left on their headlining tour before hitting the festival circuit next month.
Copyright 2014 ABC News Radio