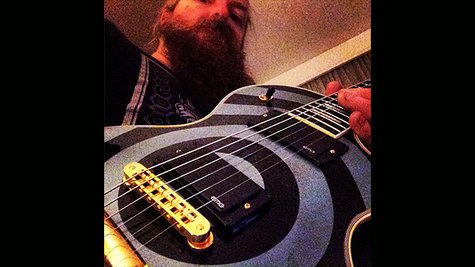 Zakk Wylde 's stolen guitar has been found. The custom-made Gibson Les Paul -- featuring the Black Label Society frontman's signature bull's-eye graphics -- was turned in by the owner of Chicago's Royal Pawn Shop, who purchased it ten or so days after it was reported stolen from Wylde's unlocked tour bus.
The owner of the shop, Randy Cohen , was notified of the theft via a police bulletin right after it occurred but tells the Chicago Tribune that he had forgotten about it when a man brought it into his shop, the previous subject of the reality show Hardcore Pawn: Chicago . According to the paper Cohen held the guitar for the required 30 days, but when he was preparing to place it for sale in the shop he realized it was likely worth far more than the $50 he paid for it. He was certainly correct -- the Pelham Blue Les Paul was one of two bull's-eye guitars made for the guitarist about four years ago and is worth roughly $10,000.
Cohen then contacted a local music shop whose staff quickly ID'ed the guitar as belonging to Zakk, whose manager Blasko was notified and said, "All I need to know was that it was found. That's good news."
There's no word on the identity of the man who sold it to the pawn shop but the shop owner says his identification was checked and recorded per Illinois state law. Police are working to track him down.
Copyright 2014 ABC News Radio