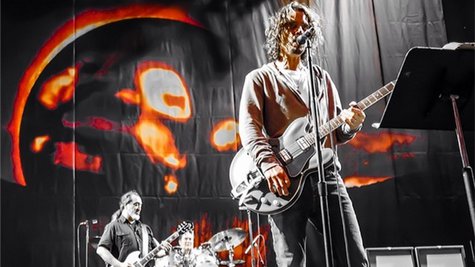 Soundgarden was the focus of the latest edition of Guitar Center Sessions , which just aired on DirectTV. Besides talking about...well, guitars, Chris Cornell and company unexpectedly addressed a question fans have been asking for nearly 20 years: Why'd the band break up?
The members of Soundgarden spent 13 years apart, between 1997 and 2010. During that time, when asked for an explanation by the press, the guys would answer in vague terms. On Guitar Center Sessions , Cornell said, "We were still all really good friends, so there was no 'story' when we broke up."
"There wasn't some sort of philosophical conflict," Cornell continued. "It was more of a day-to-day life becomes less enjoyable."
The singer said that he and his band mates didn't want to stay together unless it was fun and exciting. "Because of what we'd created, for me there was more of a preservationalist attitude towards it," he said. "Like, if this is gonna be icky, then let's just not do it. Up to that point we hadn't made any mistakes with our music or...in front of our fans."
The Soundgarden episode of Guitar Center Sessions is streaming now on Guitar Center's YouTube channel .
Copyright 2014 ABC News Radio