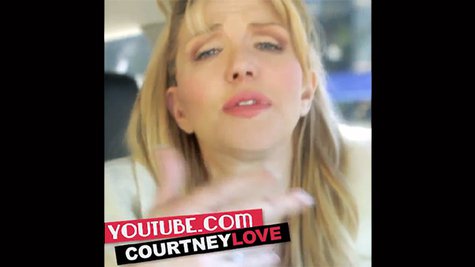 (NOTE LANGUAGE) Don't expect Courtney Love to appear on a movie soundtrack anytime soon. In a new interview with the British GQ , the singer and frontwoman of the on-again, off-again Hole was asked about who approaches her to contribute to movies, TV shows, or advertising. Love says that she gets hit up for songs constantly, and that when she does agree to participate, she's often sorry. "I let 'Celebrity Skin' be on... Glee ...and it's pretty terrible to be honest," she said. "They did a very sloppy job with it. They might do that with every song -- I don't know, I'd never seen Glee at all."
Love also implies that she was asked to contribute to the movie Battleship , which she hinted at by calling it, "Maybe one of the worst movies ever made. I'm not going to name it but...it was based on a board game."
And she's no more pleased about Nirvana 's music being used. After she learned that "Smells Like Teen Spirit" had been licensed for the 2011 movie The Muppets , Love says, "I called the lawyers [and] was like, "What the f*** are you thinking putting 'Smells Like Teen Spirit' with Kurt as a f***ing Muppet? [Plus] they got a quarter for it? Seriously it's like a [dollar] split four ways. Meanwhile that board game movie offered [six million]! I'm not seeing kids that like the Muppets going out and buying Nirvana records right now. I was infuriated about it."
Love has two new singles -- "You Know My Name" and "Wedding Day" -- available for download. Both are also streaming now -- along with a video for "You Know My Name" -- on Love's YouTube channel .
Copyright 2014 ABC News Radio