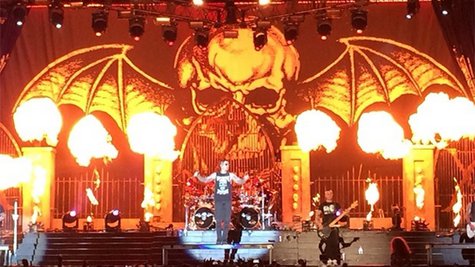 Avenged Sevenfold will headline the Rise Above Fest this weekend. The day-long music festival will be held in Bangor, ME and will benefit Save.org, a suicide prevention organization. Rise Above is organized by Shaun Morgan of the band Seether -- Morgan lost his brother to suicide seven years ago. After surviving what he tells the Bangor Daily News was "one of the worst times of my life," Morgan decided to begin raising awareness among young people in hopes of preventing others from facing similar suffering.
Avenged Sevenfold's participation in the event comes after the band recently posted a message on its Facebook page about a fan in the U.K. who committed suicide after listening to the music of Avenged and a side project, Pinkly Smooth , among others. In the lengthy posting, the band members said they were "devastated and heartbroken for [the fan's] family, friends and community," and were "honored and happy to be part of [the Rise Above Fest] in support of Seether's efforts to help raise awareness about the realities of suicide."
The Rise Above Fest will be held all day Saturday and also features performances from Hellyeah , Black Stone Cherry , Trivium , and others. Tickets are available at RiseAboveFest.com .
Copyright 2014 ABC News Radio