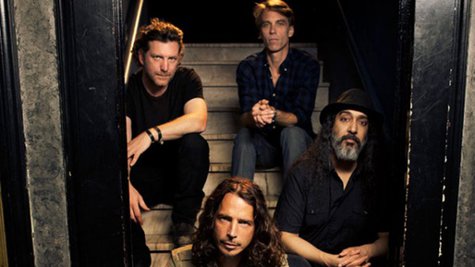 Super Duper Soundgarden ? That could -- but probably won't -- be the name of a new documentary on the Seattle band, being planned by the team behind the recent documentary Super Duper Alice Cooper .
Bad Feeling magazine reports that the three co-directors behind the Alice Cooper doc are very enthusiastic about a career-spanning Soundgarden film. Says one of the directors, Reginald Harkema , "Soundgarden is much closer to my own sort of experience of being a music fan and kind of reconciling these punk rock ideals. For them it was much more exaggerated, having these punk rock ideals and then dealing with becoming 'metal rock stars.'"
The film will feature lots of archival band footage and plenty of new footage as well, though the team is planning carefully because Soundgarden drummer Matt Cameron is taking some time off from the band while he drums for his other group, Pearl Jam . Harkema says, "There's some key shows that Matt is going to be playing, so [we'll] send cameras out for that, and some interviews with them [all]."
There is no word on a possible release date for the Soundgarden documentary. Super Duper Alice Cooper will be released on Blu-Ray and DVD on May 27.
Copyright 2014 ABC News Radio