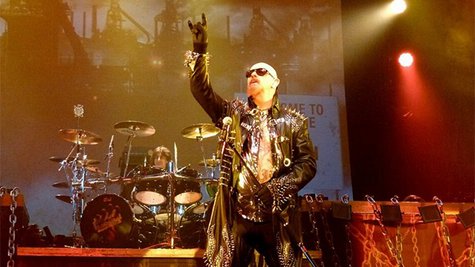 Judas Priest is set to release its first album in six years. It's called Redeemer of Souls and insiders who've heard the tracks call them "huge" and "amazing."
Though the album is expected to be supported by a world tour, the band's principle members -- singer Rob Halford , guitarist Glenn Tipton and bassist Ian Hill -- are all in their 60s and will likely have a slightly less intense tour schedule than in past years.
Halford tells ABC News Radio that he had back surgery last year to help shore up a spinal column that had weathered many a heavy-metal mile. But that's not the only part of the singer that needs some attention -- Halford tells ABC News Radio exclusively that he has an umbilical hernia that he intends to have repaired not because it gives him pain but because, "It looks like the alien just burst forth!"
Halford says, "My doctors always said, 'We can take care of it,' and I said, 'I'll get around to it.' [The doctor said,] 'If it's not giving you any discomfort then you should leave it as it is,' but it's not very appealing to look at, is it?"
Halford says he's resigned himself to the surgery, and manages to keep a good attitude about his advancing age. "That's life," he says. "The wonderful thing about heavy metal music is that it's immortal. The music is immortal, but the creators are not bestowed with that attribute."
Redeemer of Souls will be released on July 15. The band has also posted a live stream of the title track on Judas Priest's official YouTube channel .
Copyright 2014 ABC News Radio