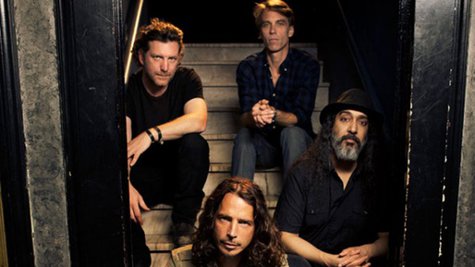 Soundgarden has announced a special show to mark the 20th anniversary of Superunknown . On June 2, the band will take the stage at the intimate Webster Hall venue in New York City and play the landmark album from start to finish, marking only the second time in history they've done so.
Like a recent Coldplay concert in New York City, tickets for this Soundgarden show are only being sold to CitiCard members, and a Citi card must be used when purchasing them. Tickets will go sale on Wednesday, May 21 at 10 a.m. ET, and they will cost all of $19.94 each, commemorating the year of the album's release. More extensive details can be found on www.citiprivatepass.com.
Soundgarden will release two deluxe editions of Superunknown , and also a vinyl version. The deluxe editions will include previously unreleased rehearsal recordings, demos and b-sides, and are set to hit retail and online outlets June 3.
Superunknown debuted at number one the week it was released and remains Soundgarden's highest-selling album, due to what many regard as strong songwriting on tunes like "Black Hole Sun" and "Spoonman," both of which won Grammys.
Soundgarden and Nine Inch Nails have announced a 23-date co-headlining summer U.S. tour that kicks off July 19 in Las Vegas and concludes with an August 25 show at the Hollywood Bowl. The two veteran bands will share the stage -- or at least the bill -- for the first time since 1994.
Follow @ABCNewsRadio Copyright 2014 ABC News Radio