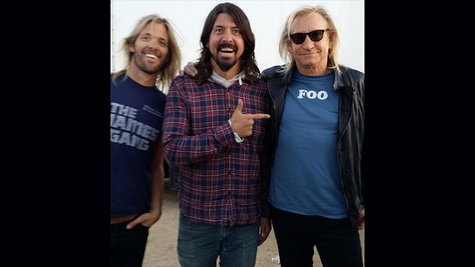 Rumors have been flying about this for more than a month, but now it's official: the Foo Fighters have been working on a new album and have gotten an assist from Joe Walsh . The Eagles guitarist and solo artist confirms to The Hollywood Reporter , "I was a Foo Fighter for two days and played on a track of theirs that's gonna come out."
Buzz about Walsh helping Dave Grohl and company has been around for a while, and the Foos just left Rancho de la Luna Studios in Joshua Tree, California. Dave Catching , who owns Rancho de la Luna, posted pictures of Dave Grohl and his band mates two weeks ago on his Instagram page . The photos show Grohl, Pat Smear and the others relaxing; Grohl aiming what appears to be a BB gun or .22 rifle at something out of frame; and various members lounging around a fire pit. There were also photos posted of reel-to-reel tape recording.
Another still-unconfirmed element of those rumors is that Nirvana Nevermind producer Butch Vig is working on some of the new music.
There is still no official confirmation from Foo Fighters about any of this, or any indication of a release date.
Follow @ABCNewsRadio Copyright 2014 ABC News Radio