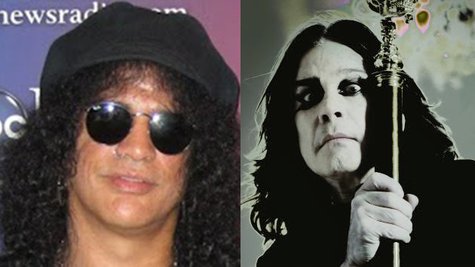 As previously reported, Ozzy Osbourne was presented with MusiCares's Stevie Ray Vaughan Award at the 10th annual MusiCares MAP Fund Benefit Concert at Club Nokia in Los Angeles on Monday, for what the organization calls his "commitment to helping others with the addiction recovery process." Among many other famous well-wishers at the show was Slash , a longtime Ozzy fan and friend, who took part in the many onstage jams of the evening.
Slash tells ABC News Radio that even though he's a busy guy, he loves to "just get up and play with people. I'm busy, but I never miss a chance to go up and jam with people I'm either majorly influenced by or people that I respect and admire a lot."
Where does Ozzy Osbourne fall in those categories? "He definitely fits into all of those -- somebody I respect and admire, somebody who's influenced me a lot, and somebody that I've just been good friends with, sort of like family to me. There's all kinds of positives about Ozzy."
Follow @ABCNewsRadio
Copyright 2014 ABC News Radio