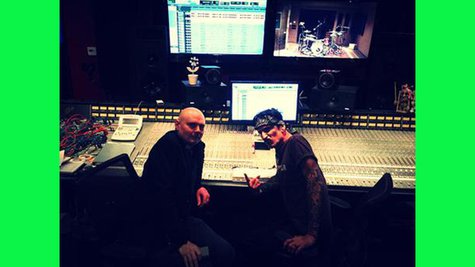 Last week Billy Corgan let the world know that Tommy Lee had been pounding the drums for the new Smashing Pumpkins album. On the band's official website , Corgan posted a photo of Tommy in the studio with the caption, "Just finished round 1 of tracking drums with Tommy Lee for the new the Smashing Pumpkins album. Shockla-locka-boom. Yes, that T Lee for all 9 songs of Monument to an Elegy ."
A source close to Lee confirmed to ABC News Radio, "Tommy said, 'It was killer!'"
Now Corgan is following up, in signature verbose style. In a post on the Pumpkins site, Billy said, "A few weeks ago I presented T Lee with the idea, played him all the songs...and discussed...finding common ground in the studio. [Then there was] the rush to prepare the arrangements for him to drum on, and also our keeping the work under wraps; so that nothing and nobody could influence the process."
Billy Corgan says he's "happy to report that not only did we have a blast, but the 9 'MONUMENTS' songs sound epic in a way that is indescribable. Tommy hits the drums in a crushing manner, but as many fans know this is not without nuance or reaction; as he has a fantastic ear for music and plays with the songs in a means that only enhances excitement. The only other place I've heard this phenomena is with John Bonham of Led Zeppelin : where heavy drums can sound soft and expressive. Good company indeed!"
Corgan mentioned that he had met Tommy Lee in 1991 when Lee came to a Pumpkins show and that the "coupling is not as odd as some might assume, as he, like I, has pushed into embracing new technologies, electronics, etc where it pertains to making new sounds. He is a wonderful, warm person to be around, and I wouldn't have come to him with this proposition if I didn't trust that this was something we'd both be proud of."
Smashing Pumpkins' last studio album was Oceania , which appeared in 2012. In the time since, Corgan has tended to his Chicago teahouse Madame ZuZus , where he sells "gourmet tea...[at] prices that are a little higher."
Corgan will be releasing a "soundscape-only" vinyl album called Aegea . It's limited to only 250 copies, each of which will be signed by Corgan. Pre-sale for the Aegea album begins today at the Madame Zuzus website .
The first single from Monument to an Elegy is expected by the end of 2014.
Follow @ABCNewsRadio Copyright 2014 ABC News Radio