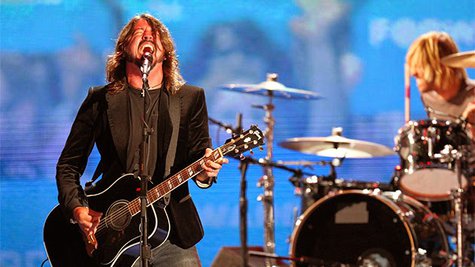 The reports that Foo Fighters are recording a new album have been growing in recent weeks. Now there's finally official word from the band's camp: the new Foos album will hit this fall.
According to a press statement, the album is linked to the new, as-yet untitled HBO series that Dave Grohl is producing. Each of the eight songs on the album was recorded in a different studio, using local talent, and "every lyric written in an unprecedented experimental style: Dave held off on putting down words until the last day of each session, so as to be inspired by the experiences, interviews and personalities that became part of the process."
The studios featured on the album and in the HBO series are located in Chicago, Austin, Nashville, Los Angeles, Seattle, New Orleans, Washington, D.C., and New York.
"Dave's heartfelt passion for this project is contagious and his talent as a musician and filmmaker is undeniable," said Michael Lombardo , president of HBO Programming. "We are excited to go on this journey with him and the Foo Fighters for this insider's look at how regional music inspired them to create their own new music."
Though the Foo Fighters press release doesn't specify a date for the series, it does say it will premiere "on the eve of Foo Fighters' 20th anniversary." That would be sometime this October, 20 years after Dave Grohl recording the very first Foo Fighters songs at Robert Lang Studios in Shoreline, WA.
Follow @ABCNewsRadio Copyright 2014 ABC News Radio