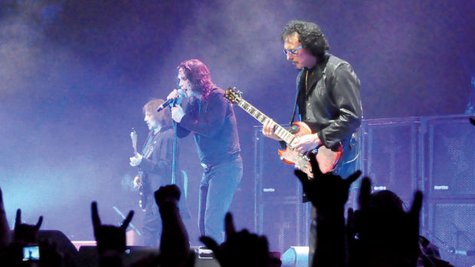 Will Black Sabbath 's July 4th show in London's Hyde Park be their last gig? Tony Iommi says it may be. The guitarist tells MetalHammer.com , "It could be the last ever Sabbath show… There's nothing really planned touring-wise after that show, so for all we know, that could be it."
Iommi says he doesn't want the show to be the end of Sabbath's touring career, but his health has become an issue. "To be honest, I don't want to be touring to this extent too much longer because it makes me feel so bad," he says. Iommi has been undergoing treatment for lymphoma since being diagnosed with the illness in 2012 and is waiting for an update on his prognosis.
"After we finish this tour I'll go in and have a scan, so we'll see what that shows," says the guitarist. "But the show at Hyde Park will be a great way to end the European tour. It has a really great bill." Other bands on the bill for that show -- which is dubbed the Barclaycard British Summertime Festival -- include Motorhead , Faith No More and Soundgarden .
Follow @ABCNewsRadio Copyright 2014 ABC News Radio