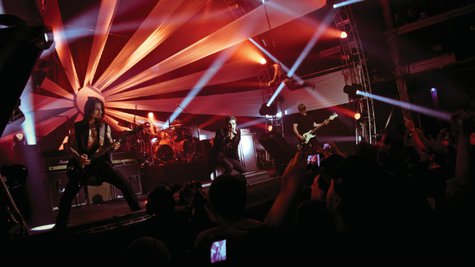 Attention fans of Weezer, Jane's Addiction and Slayer -- you might want to head to the Chicago incarnation of Riot Fest for a one-off music geek experience. Those bands -- and also Offspring , Samhain , NOFX, the Descendents , Naked Raygun, Get Up Kids, and another surprise addition -- will each play one of their signature albums from front to back at the festival this year.
Jane's Addiction will be performing 1988's Nothing's Shocking ; Weezer will be performing its 1994 self-titled "blue album"; and Slayer will play its 1986 album Reign in Blood .
According to Rolling Stone , the idea came to Riot Fest organizer Michael Petryshyn last year, following the Violent Femmes ' set during which they played their self-titled album in its entirety. "It dawned on me [then] that if we ever did an album play thing at Riot, we should make it something that the fans would remember years from now," he said. "It hit me… '10 Years. 10 Essential Albums' and it grew from there."
Riot Fest is in its tenth year, with three sets of shows set for this September -- Toronto on September 6 and 7; Chicago on September 12, 13 and 14; and Denver on September 19, 20 and 21.
Tickets are available at TicketFly.com.
Follow @ABCNewsRadio
Copyright 2014 ABC News Radio