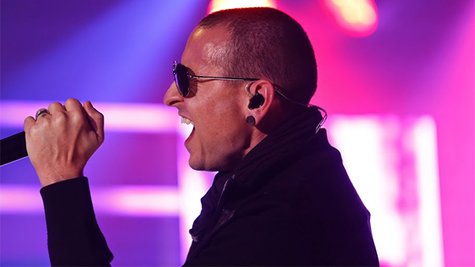 The members of Linkin Park have uploaded an interview about the making of their forthcoming album The Hunting Party . On the official Linkin Park YouTube channel , Chester Bennington and Mike Shinoda discuss, among other topics, how their new single, "Guilty All the Same," came to be.
The tune features a guest appearance by Hip-hop legend Rakim , who Shinoda says was the perfect answer to the unfinished song -- which had been written to accommodate a rap bridge. "The idea came up to have Rakim on it and luckily our engineer, who's from New York, knew him through a friend," Shinoda says in the video. They tracked down Rakim, discussed the idea and felt that he'd be "a perfect match for the song."
The interview is just under six minutes and covers lots of topics, including Shinoda's guilty music pleasures -- which don't include Justin Bieber -- as well as the band's dissatisfaction with the current state of rock music and the headspace they reached during recording.
The Hunting Party hits digital and retail on June 17.
Follow @ABCNewsRadio
Copyright 2014 ABC News Radio