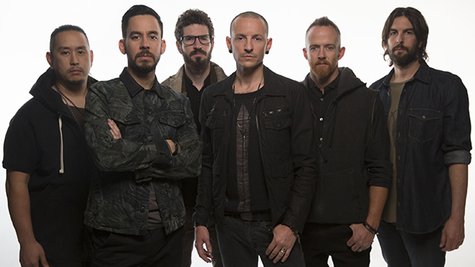 A month before the album hits stores, Linkin Park has released a trailer for The Hunting Party . The clip shows the band members in the studio and features their feedback about the writing and recording processes.
What's clear even in this short video is the growth represented by The Hunting Party -- the album is much more aggressive, and less bright and poppy, than Linkin Park's most recent albums. As previously reported, this musical shift was inspired from a frustration with the state of rock and the longing of the band members to return to a harder sound, but with a modern edge.
Something that's funny about the trailer -- the band members found that making agressive rock music takes more energy now that they're in their 40s than it did when they were 20-somethings. LP bassist Dave Farrell admits, "[It's] different for us and forced us to get better on our instruments [and] get better as a band playing together."
The first single from the new album is "Guilty All the Same" and Mike Shinoda says that once that song was finished, he and the others realized they had "set the bar higher for the rest of the album."
The Hunting Party arrives on June 17. The trailer is streaming live on Linkin Park's official YouTube channel .
Follow @ABCNewsRadio
Copyright 2014 ABC News Radio